The future of urban mobility is poised for a revolution – but while some solutions are easy to envision, others are a lot less straightforward. Tune into the latest episode of Brighter Talks, a new podcast series by WBCSD member Covestro, to hear insights from Thomas Deloison, WBCSD Director Mobility, about moving the future.
What does the city of the future look like? That is what several experts are discussing in our series #MyFutureCity. In this essay, mobility expert Thomas Deloison explains how we will move, what kind of cars we will be using, what they will be made of – and why autonomous driving could help.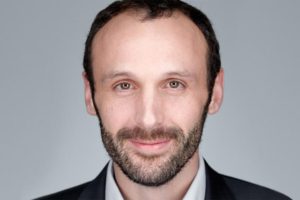 Hundreds of cars stuck in long traffic jams, drivers losing time, and vehicles emitting without covering distance. Overcrowded busses and trains that are seldom on time and do not offer much comfort, sometimes even breaking down and not moving at all anymore.
Worldwide, this is what rush hour in a big city typically looks like: "It is not a good sight," says mobility expert Thomas Deloison. "Considering human wellbeing, it is shocking what can be seen on our streets nowadays." He believes the current mobility situation leads "to congestion on the streets and produces emissions, noise, and particles in the air, putting our health at risk."
He adds: "Mobility is not accessible to all and is – all things considered – a risk for people and for the planet. If people and planet are to thrive, we need to change the way we think and use mobility at once!"
Individual traffic: Needs to be reduced
Deloison explains that measures need to be taken in several different fields of mobility: "Let's have a look at the individual cars," he says. "Right now, most people use their own cars for transport, resulting in these private vehicles making up 82 percent of traffic and pollution."
To reduce that high percentage and the accompanying pollution, Deloison advocates that people need to get out of their cars: "If people stop driving individually and start sharing cars instead, estimations show that it could reduce the overall traffic by up to 35 percent, which would also help reduce CO₂ emissions immensely."
According to him, this new car-sharing culture would also need to be encouraged by politicians. "Governments could make sharing much more attractive by introducing some restrictions and policies on individual driving – and also by working on public transport services."
Source: www.wbcsd.org